Property owners have a responsibility to maintain safe conditions for all visitors. When they fail to uphold this obligation and you suffer an injury due to their negligent actions, you may be entitled to recover compensation in a premises liability lawsuit. Slip and fall accidents are some of the most common cases covered under premises liability law.
It's important to remember that there are a variety of reasons why you may get injured in a slip and fall accident, and these incidents aren't always caused by the property owner's negligence. In order to recover compensation, your injuries must be caused by the negligent actions of another.
The best way to learn about your legal rights and options is to speak with our attorneys in person. Please call 732-617-8050 today to schedule a free consultation.
What Is a Slip and Fall Accident?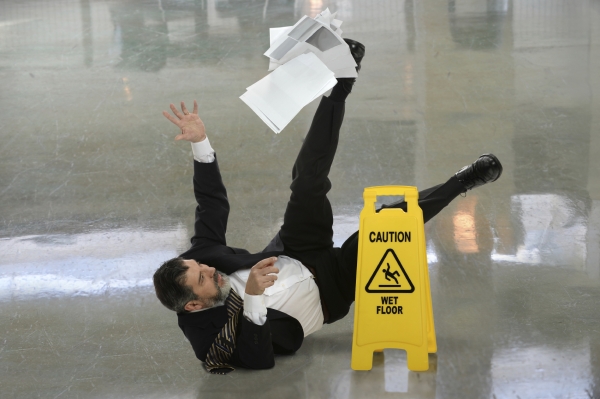 Slip and fall accidents refer to injuries that occur when someone slips, trips or falls on the property of another. These accidents can occur on any type of property, from a private home to a commercial building. The National Floor Safety Institute estimates that slip and fall accidents result in over 8 million visits to the emergency room each year.
While the term "slip and fall" may conjure images of accidents on icy sidewalks, the reality is that these types of accidents can occur in a variety of conditions. Common causes of slip and fall accidents include:
Cracked or uneven pavement
Wet floors
Obstructions blocking a walkway
Poorly maintained stairways and hand railings
Insufficient lighting
Bunched up carpets and rugs
Potholes
Tripping hazards
When a property owner fails to take the steps necessary to fix these hazards or to properly warn guests about the existence of these hazards, you may be entitled to recover compensation for damages including:
Current and future medical expenses
Lost wages
Pain and suffering
Proving Negligence in a Slip and Fall Case
Slip and fall cases are very complex and can be difficult to prove. In order to recover compensation, you must be able to demonstrate that your injuries were directly caused by the presence of an unsafe condition on the property. In addition, you must be able to prove that the property owner was aware of the dangerous condition or should have been aware of the condition, yet failed to take the actions necessary to restore proper levels of safety.
Proving that the property owner had knowledge of the dangerous condition can be challenging. You must be able to demonstrate one of the following:
The property owner created the dangerous condition which caused your injury
The property owner new about the dangerous condition and was negligent in making the necessary repairs
The unsafe condition existed for a long enough amount of time that the property owner should have reasonably been aware of its existence and been able to make all repairs before you were injured
Shapiro & Sternlieb Can Help
The attorneys at Shapiro & Sternlieb have almost 60 years of combined experience fighting for the rights of personal injury victims in the Newark and New Brunswick areas. During this time, they have handled numerous slip and fall accident cases. Mr. Shapiro and Mr. Sternlieb will go to great lengths to demonstrate precisely what the property owner knew about the hazard that caused your slip and fall accident. This level of proof is crucial to the success of your case.
Contact our Newark Slip and Fall Lawyers
Please contact Shapiro & Sternlieb, LLC using the form on this page or call 732-617-8050 today to schedule your free slip and fall consultation. We serve clients in Newark, New Brunswick, Englishtown and the surrounding areas of New Jersey.