For many of us, this Memorial Day Weekend is the unofficial start to summer. The days are longer. The weather is warmer. And for motorcyclists, the open road beckons. If you are taking a road trip this summer, remember these safety tips to share the road with motorcycle riders.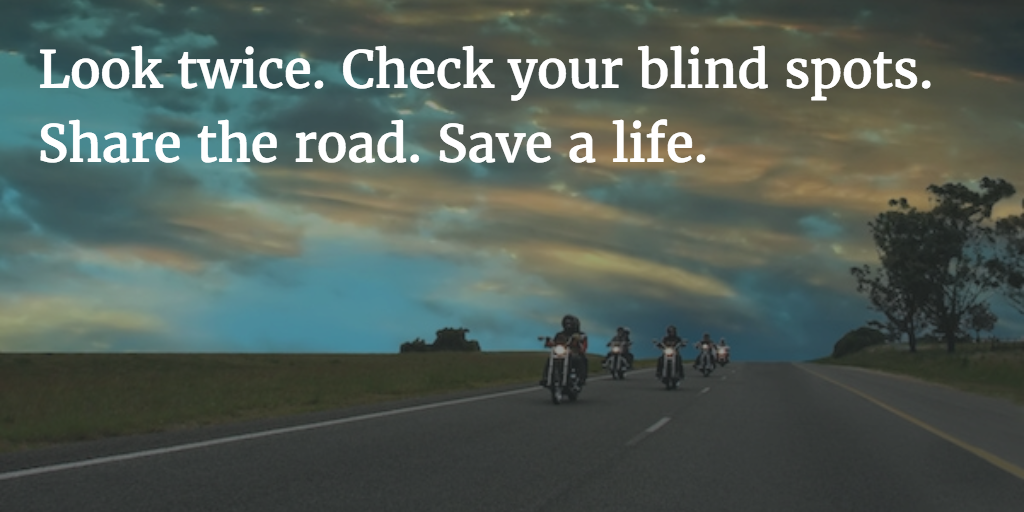 Look twice. You really can save a life. Look twice before changing lanes, taking off from a stop, turning or entering the roadway. Always double-check your blind spots! Because motorcycles are smaller than other vehicles on the road, your eyes won't always register their presence on first glance.
Leave room. Just like other drivers, motorcyclists need room to react to hazards on the road and adverse weather conditions. Give riders just as much room, if not more, than you would give other vehicles.
Use your signal. It's always important to communicate with other drivers, but take extra care to ensure that you are communicating your intentions with riders to give them time to react.
Never text and drive. It can be tempting to glance down at your phone, but that split second could be the moment that you need to see a motorcycle turning ahead or entering the road.
Be courteous. You may feel invincible in the safety of your car, but we are all vulnerable when sharing the roads together. Drive courteously around motorcycles and all other vehicles. Spare the horn honking and tailgating for a more pleasant and safer experience for all.
Have you been injured in a motorcycle accident? Contact Shapiro & Sternlieb, LLC today online or at 732-851-1478 to talk about your case for free. We represent clients throughout Newark, Jersey City, and the surrounding areas of New Jersey.