Posted: February 27, 2019
When you trip and are injured on someone's property, you may have the option of pursuing a premises liability lawsuit against the property owner. Liability, negligence and the nature of your damages can all affect the value of your settlement. Learn more about how these factors can play into determining the outcome of your slip and fall case so you can take appropriate steps to recover the maximum amount possible.
Determining Liability for Your Injuries
We all have a responsibility to watch our step and make smart decisions about where we go. A property owner won't always be held responsible for your stumbles, but they do need to ensure — to the best of their ability — that their property is safe and maintained.
When it comes to determining who is liable for your slip and fall injuries, a court of law will take into consideration whether or not the following occurred:
The property owner created dangerous conditions that caused your fall and resulting injuries
 
The property owner knew dangerous conditions existed but did nothing about them
 
The property owner did not know that dangerous conditions existed, but they should have discovered them while performing routine upkeep
The "should have known" situation can be difficult to argue and may require closer scrutiny by a judge or jury, but it's most often the circumstance behind a slip and fall case.
Proving Liability & Negligence in Slip and Fall Cases
To hold a property owner liable for your personal injuries, you will need to prove that they acted negligently. In other words, you will have to show that their careless actions, which can include a lack of action, harmed you in some way.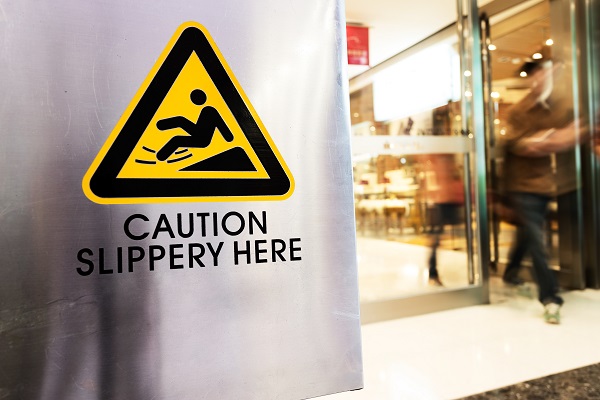 Just because you slipped on something that shouldn't have been there doesn't necessarily mean a property owner is to blame. You'll want to ask yourself the following questions:
Did the dangerous conditions exist long enough for the property owner to know and take action?
 
Does the property owner regularly inspect and clean up their premises? Is there proof of this?
 
Was an object in a location where it should not have been? Is there a reason why the object was there? If so, could it have easily been placed in a safer location?
 
Would a barrier or warning have deterred you from walking where you did?
 
Did bad lighting or a lack of lighting contribute to your fall?
If the answers to several of these questions point back to a property owner's negligence, you may have a strong case. However, you should also consider whether or not your own actions played a role in your injuries.
What If You're Partly to Blame for Your Injuries?
While it's easy to believe that you were careful about where you were walking, you need to be honest with yourself. Much like you questioned the property owner's actions, you should question your own:
Why were you in the area when you fell?
 
Should you have known the area was dangerous? Did you ignore warnings? Would a reasonable person have deduced that it was dangerous?
 
Were you engaging in an activity that would have distracted you and made falling more likely?
If it's decided that your own actions did play a role in your injuries, your settlement may be lowered. Under New Jersey's Comparative Negligence Act, you will not be eligible to receive compensation if it's decided that you were more than 50 percent  responsible for your slip and fall.
This caveat makes seeking the help of a slip and fall attorney all the more important. The legal team at Shapiro & Sternlieb, LLC can help you understand your rights and will conduct an investigation to determine liability.
Contact Our Personal Injury Attorneys
If you've been injured in a slip and fall accident, we can help. Call 732-617-8050 or use the form on this page to schedule a free consultation. Shapiro & Sternlieb, LLC serves clients in Newark, New Brunswick, Englishtown and the surrounding areas of New Jersey.