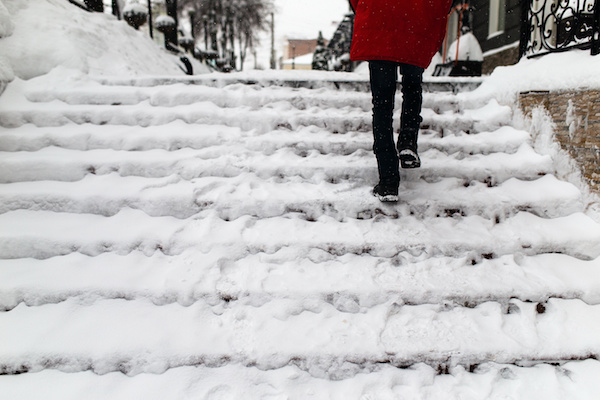 With winter weather settled in to New Jersey, it's a great time to think about winter weather safety. Slip and fall accidents cause thousands of injuries each year, and although you cannot prevent them all, you can take steps to protect yourself this winter. Snow and ice make sidewalks, parking lots, and entryways dangerous places. Use caution when out and about during winter weather and keep these tips in mind.
Wear appropriate shoes. Just like you want to have good winter tires for your vehicle for the best traction, you also want good shoes for good traction when you're walking on winter surfaces. Your shoes should fit snugly and have soles made from nonstick rubber with deep treads. For extreme circumstances, you can even clip on metal cleats for walking on ice. If you need to wear slick-soled shoes or heels for work, try packing them and exchanging shoes once you reach your destination.
Avoid ice. Ice is always slippery. It doesn't matter how long you've lived in the New Jersey area or how experienced you may be with winter conditions. No one is immune to slipping on ice. Take short, small steps when you are navigating icy areas and avoid them whenever possible.
Use your cane or walker. Although it may seem like these extra devices could just get in the way when it is snowy and icy out, they can actually provide the extra support and stability you need—especially is slippery winter conditions.
Use handrails. Many people try to avoid touching handrails this time of year because they don't want to catch the flu from the germs left behind by the last person. However, handrails can help prevent a nasty fall if you slip. If you are concerned about germs, wear gloves and carry hand sanitizer with you.
Clean off your shoes. You may think the danger stops at the door of your destination, but if you have caked on ice and snow in the tread of your shoes, that can cause you to slip and fall even once you are inside. Take the time to clean your shoes off once you reach your destination.
Even taking these precautions, you may be the victim of a slip and fall accident, which can cause serious injuries from torn ligaments to head injuries. Property owners and businesses are responsible for maintaining their premises, including parking lots and entryways. If you have been injured in a slip and fall on someone else's property, you may be able to hold the property owner or business responsible for your injuries.
At Shapiro & Sternlieb, our attorneys can help you understand your rights to compensation and help you pursue your legal case against the responsible parties.
Have you been injured Contact Shapiro & Sternlieb, LLC today online or at 732-851-1478 for your free slip and fall case consultation with an experienced attorney. We represent clients throughout Newark, Jersey City, and the surrounding areas of New Jersey.