​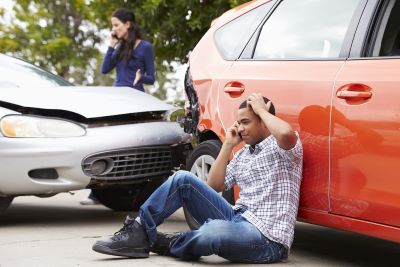 Ridesharing services such as Uber and Lyft have become prevalent nearly everywhere in the country. With their growing popularity comes greater chances of getting into a car accident involving a ridesharing vehicle, either as the driver of another car, as a pedestrian, or as a passenger.
The rules governing ridesharing liability are convoluted, and the responsibility for an Uber or Lyft accident can vary depending on whether the driver had accepted a ride. If you're injured in such a crash, the experienced car accident attorneys at Shapiro & Sternlieb, LLC could help you navigate the claims process. Read on to learn how those rules work and how they could affect you.
Uber and Lyft Car Accidents When the Other Driver is at Fault
If you're a ridesharing passenger, and your Uber or Lyft is hit by another driver, the process plays out like any other car accident where the other party is at fault. You can pursue a claim from that driver's insurance company for damages that may include:
Current and future medical costs
Lost wages
Loss of work benefits
Diminished earning potential
Rehabilitation costs
Pain and suffering
Loss of enjoyment of life
In these cases, as after any car accident, you should call the police immediately and seek medical treatment as soon as possible to boost your chances of pursuing a successful claim.
Uber and Lyft Car Accidents When the Ridesharing Driver is at Fault
If you are a pedestrian, driver, or ridesharing passenger in a car accident where an Uber or Lyft driver is at fault, complicated liability rules come into play. Responsibility for the accident depends on when it occurs:
When the driver is not logged into the Uber or Lyft app, the companies provide no coverage. If you're involved in an accident and that driver is at fault, you may pursue a claim through their personal car insurance company.
When the driver is logged into the app but has not accepted a ride, Uber and Lyft provide liability coverage up to $50,000 per person injured in an accident, $100,000 in total injury liability, and $25,000 in property damage liability.
When the driver has accepted a ride and is on the way to pick them up, Uber and Lyft provide $1 million in liability coverage.
When a passenger has entered the Uber or Lyft, the companies provide $1 million in liability coverage, as well as limited uninsured motorist coverage.
Can I Sue Uber or Lyft After a Car Accident?
You will likely not be able to sue Uber or Lyft after a car accident, even if the ridesharing driver was at fault. The National Labor Relations Board ruled in May 2019 that ridesharing drivers are independent contractors, not employees.
This distinction is important because companies are likely to be found liable for the actions of their employees, but not their independent contractors. There have been exceptions to this rule, but they are scarce.
Schedule Your New Jersey Car Accident Lawyer Consultation Today
At Shapiro & Sternlieb, LCC, our attorneys have more than 25 years of experience seeking justice for people injured by the actions of other drivers. Whether you were injured by a ridesharing driver or someone using their personal vehicle for everyday purposes, our attorneys can help you recover the compensation you may deserve.
We serve Englishtown, Newark, Jersey City, Monmouth and Middlesex counties, and nearby areas of New Jersey. Call  (732) 617-8050 today to schedule a consultation.