Posted: November 25, 2019
A year ago, the New Jersey Supreme Court ruled that 20,667 breathalyzer test results are inadmissible. The court determined that the results of the tests could not be trusted because the devices may not have been properly calibrated. That means that tens of thousands of DWI charges could be thrown out.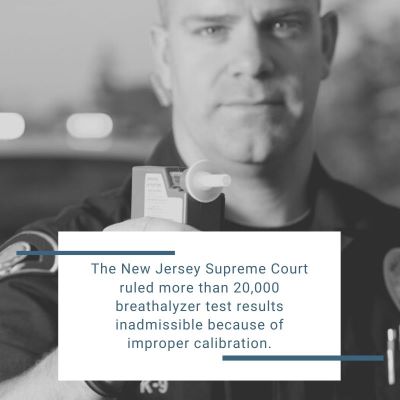 A State Police sergeant was accused of falsifying calibration records on breathalyzer devices that were used in several New Jersey counties. These counties include Middlesex, Monmouth, Somerset, Ocean, and Union.
The devices must be calibrated properly to ensure that display accurate blood alcohol levels. Shockingly, thousands of individuals in New Jersey may have received DUI convictions based on false breathalyzer results because of this calibration issue alone.
The breathalyzer devices in question were used between 2008 and 2016. The Supreme Court ruling did not automatically erase the DWI convictions that are tied to these devices. Individuals that were affected will need to challenge their convictions.
If you have any questions about how this Supreme Court ruling might affect you or a loved one, the dedicated attorneys at Shapiro & Sternlieb, LLC would be happy to help you. Individuals who were convicted based on these compromised results deserve justice.
Fighting a DWI in New Jersey
A DUI/DWI conviction in New Jersey can negatively impact your life in many ways. Even after recent reform, New Jersey DUI laws are strict. Convicted drivers could face harsh punishments such as license suspension, mandatory interlock device installation, fines, and even jail time. This often depends on whether it was your first, second, or third offense and your BAC level.
At Shapiro & Sternlieb, LLC, we know how to hunt for any possible evidence that could dismiss your criminal charge. Breathalyzer test results are often used as evidence to convict someone of a DUI. If these tests are not calibrated correctly, are administered improperly, or are otherwise mishandled, you may be able to challenge your DUI.
Due to the massive number of inadmissible tests involved in this ruling, it may be difficult to notify everyone who was affected by these improperly calibrated devices. If you received a DWI conviction in New Jersey, contact our experienced attorneys today. Even if you already pled guilty and suffered the penalties, you should still seek legal help to see if your DWI case was involved in this incident and could be vacated.
When it comes to fighting a DWI charge, it's important to act quickly to protect your way of life. Don't hesitate to contact an experienced DUI lawyer who can help you during this challenging time.
Schedule Your Free DUI Consultation
A DUI conviction can hurt your reputation and your job prospects. We have nearly 60 years of combined experience, and we know how to aggressively protect your rights. If you received a DUI/DWI conviction between 2008 and 2016, our attorneys can investigate your case and help determine if your conviction is eligible to be overturned because of police malpractice.
Our attorneys proudly represent clients from Englishtown, Newark, Jersey City, Monmouth and Middlesex counties, and nearby areas of New Jersey. Contact Shapiro & Sternlieb today at (732) 617-8050 to discuss your DWI case for free.